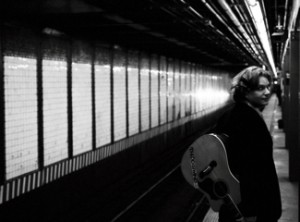 If you can get a New York City straphanger to purchase your CD in the 30 seconds it takes for their next train to arrive, you're damn good. Theo Eastwind's intoxicating lullaby style is guaranteed to hook you in, wrap you up, and stop you dead in your tracks.

Described as "New York's Own" by The Village Voice, Theo is the essence of a self- made man. He arrived in this country with nothing. He has since gone on to form his own production company, TheoSophical Music, from which he has produced three albums. He has also attracted a sizable following of devoted fans by playing in the subways and clubs of NYC were he has sold over 20,000 CDs.

The story of Theo Eastwind begins in Vienna, Austria. Theo's mother cleaned office buildings and his father worked for the city library as well as conducted a small local orchestra in the 17th district of Vienna called The Hernalser Chamber Orchestra. Theo received his musical roots from his father, but was never given any attention or support towards his talent as a musician.

Dyslexia and strabismus in his left eye (corrected later in life through a surgical process) made school extremely difficult for Theo. He quickly grew impatient and dropped out of school in the ninth grade. He then enrolled in a trade school and started an apprenticeship for a degree in the confectionery arts. There, a new passion and talent for baking was found. He specialized in Viennese and French pastry and various types of bread.

In 1995, Theo answered an unemployment notice seeking a baker to run a Viennese bakeshop called "Lipizaner" in New York City. He was given a round trip ticket to fly to the Big Apple, but by the time he arrived, the business had lost all its backers and the venture had fallen through. Theo was left on his own in a strange city with his life savings in his pocket. His only possession was a beat-up old guitar strapped to his back.

He was too proud and stubborn to return to Vienna, but his savings quickly ran out. With no place to live, and without knowing a soul in this new country, the reality of the tough city was now setting in. Down and out, strolling through the subway, a voice captured his attention. A man, Carlton, was singing a cappella for money. This subway musician inspired Theo to do the same.

He began by singing cover songs by Nirvana, Sade, Live, Fountains of Wayne, and Oasis. He was inexperienced, shy, and could barely make five cents in three hours. Theo realized he had a lot of hard work to do if he was going to eat and pay the rent.

Theo furiously practiced day in and day out, determined to cultivate his musical technique. Out of his effort to simply survive, he stumbled across a gold mine of talent. He began, with no formal training, to write his own music and lyrics. Today, his extraordinary voice conjures up images of Jeff Buckley, David Grey, and Sting, and his captivating songs elicit comparisons to Dave Matthews and Nick Drake. His guitar playing is raw, passionate, and loaded with heart and soul. Put all these elements together and you have the alchemical Theo Eastwind.

In 1998, Theo joined forces with bassist, Steve Brown, who became his close friend. Together, they played and became regulars in such New York clubs as Under Acme, Mercury Lounge, The Livingroom, CB's Gallery, and The Cutting Room. They also started writing commercial jingles freelance as a business.

Ruth Dibbel, a mutual friend, then loaned them a generous amount of money. Enough to set up a project studio. A company was born, TheoSophical Music. With all the music Theo had accumulated over the years, he and Steve immediately began recording their first album, the shimmering and soulful, W.I.P. (Work in Progress). Their second album, Oh La La Li… in 1999, was dedicated to Nick Drake, one of Theo's biggest inspirations. Oh La La Li… showcases Theo's raw, expansive talent and intimate lyricism that can reduce a room to silence.

Theo's third album, One, was recorded in 2000. One is richly textured and emotionally diverse. Jamie Lamm at Fearless Music, NYC, produced and mixed the album. One was a collaborative effort of many talented and accomplished artists, including Matt Johnson (former drummer for Jeff Buckley), Steve Holley of the Saturday Night Live Band, Billy White (electric guitarist from Dokken), Steve Schlitz from Longwave, and many more.

After One was released, the band went in different directions and Theo branched out on his own. He collaborated with several different artists including Soul Farm and Rachel Sage where he had the opportunity to play at such clubs as Irving Plaza, The Bottom Line, and the Hard Rock Cafe.

The O, released in 2006 is an impressive recording clearly demonstrating Theo's appeal to both an alternative and more mainstream audience. Featuring the instantly memorable "Set Up", The O is a startling and refined recording produced by the multi-talented Mark Ambrosino at the Madhouse Studios.

Theo is however a committed advocate of artists working in the subway and will release a live CD recorded entirely on a subway platform. Working again with Mark Ambrosino, this will be Theo's first release as a Sojourn Record's artist. A new and innovative NYC-based independent label, Sojourn Records will be releasing Theo's live CD in the summer of 2009.